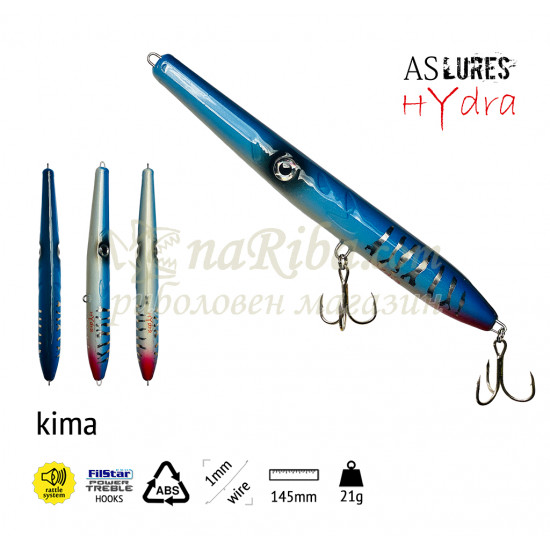 Hot In Stock
HYDRA
HYDRA is a lure evolved through 3 stages. "Version 1" was a 100% handmade wooden lure. "Version 2" was a 100% handmade urethane resin lure. The current "Version 3" HYDRA is an ABS plastic injection molded lure. The technology gives us the ability to produce a large amount lures with better quality and additional extras. The first two verions were "silent". The current "Version 3" is equiped with lead balls rattle system that makes the fishes to attack like crazy.
---
Length
HYDRA is produced in 145mm and 210mm sizes
---
Weight
The weight of the lure is 21g (for 145mm size) and 31g (for 210mm size)
---
Strength
HYDRA is equipped with 1mm wire running through the entire length.
---
Hooks
Equipped with Filstar Power Treble size #2
---
Sound
Rattle system
---
Casting
Due to its aerodynamic shape and the way of aggravation this is one of the most powerful aspects of HYDRA. The bait flies pretty well even in strong winds. With HYDRA you will easily achieve 20% to 50% better casting than other baits.
---
Colors
All the colors in which HYDRA is produced have been tested many times in different conditions and on different destinations. We have no color on the market that does not work.
---
Action
WTD (Walk The Dog). HYDRA is working perfect both with fast or slow retrieve.
---
Fish target
The primary target fish which attacks HYDRA is the Bluefish, but it's very common HYDRA to be attacked by Seabass, Dorado (Mahi-mahi, Dolphinfish, Lamporda, Kinigos), Leerfish, Jack mackerel, Bonito, Trevally, Pike